Is your daily routine interrupted by chronic back pain? This situation is extremely common as more and more people spend their whole day in front of the computer. Chronic back pain can affect your sleep, your ability to work, and your relationships with your friends and family. If you work long hours and you don't pay attention to your posture, or if you are unlucky enough to have an uncomfortable chair, your chances of developing back problems are extremely high.
Worldwide, more than 1 in 10 people suffer from back pain and many of them will postpone getting treatment because they are afraid that an orthopedic surgeon might recommend surgery. Does that sound familiar? If you are in a similar situation right now, you'll be happy to learn that a board-certified back doctor will analyze your symptoms and focus on treating you with minimally-invasive procedures.
If you are suffering from chronic back pain and are searching for a "back doctor near me in Hackensack" New Jersey, you've come to the right place! Our Harvard-trained back doctors are here to help you get rid of your back pain through non-surgical and non-opiate treatments. Schedule an appointment with Dr. George Hanna, Dr. Laura Lombardi, and Dr. Shane Volney and you'll get a correct diagnosis and treatment. Our friendly staff will guide you through the whole process, and they will try a wide range of effective treatments before recommending a life-altering surgical procedure. You don't have to live with chronic pain and this condition doesn't necessarily mean that you need to get surgery. Most of our patients recover after getting minimally-invasive treatments such as COOLIEF SI Joint Cooled RF, Lumbar Radiofrequency Ablation, SI Joint Injections, Lumbar Epidurals, and Lumbar Facet Injections in combination with physical therapy and lifestyle changes.
Read on to learn more about chronic back pain.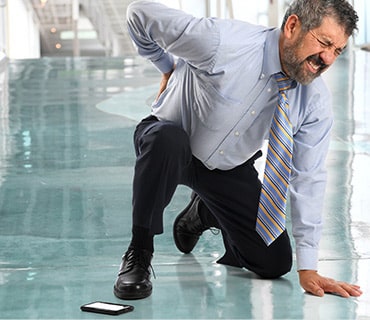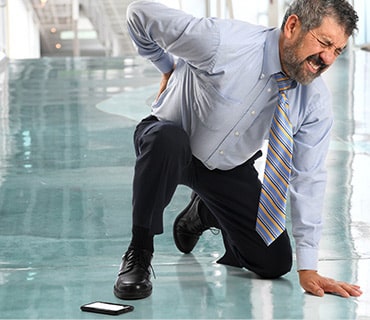 When to Schedule an Appointment with a Back Doctor for Chronic Pain?
Are you experiencing severe pain in your upper, middle, or lower back? Does your pain persist even after you get some rest or try different home remedies? Pain that doesn't subside for more than one or two weeks can indicate a serious condition, especially when it is accompanied by other troubling symptoms. A board-certified back doctor near you, in Hackensack, NJ can identify the general source of your pain and, based on your medical history and symptoms can recommend the best treatment options.
To have a better understanding of your condition, pay close attention to your symptoms. When back pain is associated with the following symptoms, you might be dealing with a medical emergency.
Fever
Abdominal pain
Digestive problems
Loss of sensation in the groin or in your arms or legs
Bowel or bladder incontinence
It is also worth mentioning that if your back pain appeared right after an injury, you should always seek medical attention. Injuries can damage the spine and, even if the pain subsides for a while, if left untreated, the injury might cause a more serious condition in the future. 
How Will a Back Doctor Diagnose Back Pain?
To offer an accurate diagnosis, a Harvard-trained back doctor near you, in Hackensack, New Jersey will start by analyzing your medical history, your current symptoms, and relevant information about your lifestyle such as sleep habits, diet, job, physical activity level, etc.
Here are some questions that a back doctor might ask you during your appointment:
Where do you feel pain? Can you pinpoint the exact area where you feel pain or is the pain spread out?
How long has the pain been present?
Is your pain persistent? Does it go away with rest or other home remedies?
Do certain activities trigger your pain or make it worse?
What pain management treatments have you tried so far?
Do your pain radiate towards your arms or legs?
Were you involved in a car accident or other type of traumatic incident?
Do you have a history of back pain?
To assess your mobility and nerve function, your back doctor might recommend a physical exam. During this exam, you'll be asked to perform certain movements and to hold certain positions to see if they trigger your pain or if they worsen it. For instance, if you are suffering from lower back pain, you might be asked to raise one leg and to keep it in a straight position or to bend forward and backward.
It is also quite common for a back pain specialist to recommend diagnostic imaging tests such as MRIs, CT Scans, and X-rays. These tests are extremely common as they help the back doctor make a correct assessment of the patient's spine and formulate the appropriate treatment.
Now that you know more about identifying and diagnosing chronic back pain, you can make the right decision and schedule an appointment with a board-certified back doctor near you in Hackensack, New Jersey. As mentioned above, if your back pain doesn't subside with rest and home remedies, it is highly recommended to seek medical advice from a Harvard-trained back doctor near you. Dr. Shane Volney, Dr. George Hanna, and Dr. Laura Lombardi, of Pain Treatment Specialists, are happy to guide you through the whole process. They will discuss your symptoms and provide effective treatment based on your needs and preferences.
If you were searching for the best back doctors near me in Hackensack, NJ, you've come to the right place. We are here to help you, so come to our state-of-the-art pain management clinics in Hackensack, New Jersey, and get rid of that annoying back pain. You can find us in Paramus, just off NJ-17, near the Paramus Park Mall and the Garden State Plaza Mall, in  Clifton, NJ, on Route 46 E, past the Ford dealership, and in West Orange, near the Essex Country Club.