To effectively manage your acute or chronic neck and back pain, you need to work with a board-certified back pain specialist. A board-certified back pain doctor will identify the cause of your pain and will offer solutions to help you control and alleviate it. There are many minimally-invasive therapies that you can choose from but the most effective ones are injections, nerve blocks, and physical therapy. If you were searching for 'medical advice from a back pain specialist near me in West Orange', you've come to the right place. Our West Orange, NJ back pain specialists (Dr. Laura Lombardi, Dr. George Hanna, and Dr. Shane Volney) are here to help.
It is worth mentioning that back pain is a very common health problem that affects over 80% of Americans at least once over the course of their lives. The good news is that effective stress management, a healthy diet, physical activity, and quality sleep can help you prevent and minimize your neck and back pain. But there are three more aspects of your everyday life that are often overlooked and that can help you manage your acute and chronic pain – moving your body, monitoring your condition, and having a positive mindset.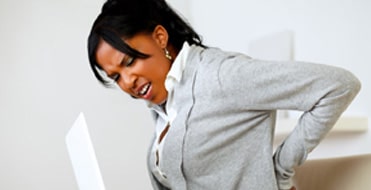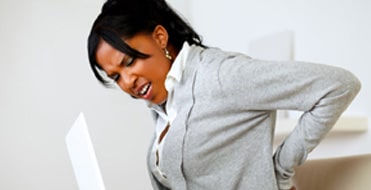 Moving your body can help you prevent and get rid of back pain
A lot of people use their neck and back pain as an excuse to avoid physical activity. We know that moving your body can be quite difficult, especially when you are in pain and your energy levels are low. Persistent pain is debilitating and will probably make you feel weak and unable to exercise. But surprisingly enough, being inactive might be the thing that's making you feel under the weather. Inactivity can lead to fatigue, deconditioning, and muscle decline. These elements combined with neck and back pain can make physical activity feel even more difficult.
Our West Orange back pain specialists encourage you to change the way in which you think about physical activity. Instead of thinking about exercising, try to think about the ways in which you are moving your body. Body movement is a natural activity that should happen regularly over the course of a day, as opposed to exercise, which is a finite activity that takes about one hour and usually consists of going to the gym, aerobics, jogging, etc.
Moving constantly and consistently is just as important as following an exercise program and it's a great first step if you don't feel ready to exercise. Our board-certified back pain doctors advise you to avoid sitting in front of the computer or in front of the TV for more than 20 minutes without stretching, standing, or taking a walk. Basic movements such as the aforementioned ones reduce inflammation, improve circulation, maintain motor control, and preserve bone and muscle strength. Keep this in mind if you want to prevent or relieve your back pain and to prepare for a future exercise regimen.
Changing your mindset will help you manage back pain more effectively
The way in which you see your well-being is an important aspect and determines how you react to your neck and back pain. If you have a positive outlook and are upbeat, and try to be constructive when it comes to your physical shape, you have better chances to improve your quality of life. Take a moment to analyze your mindset and your attitude towards your pain.
Do you tend to feel debilitated and depressed? You are not alone. A lot of people feel an avalanche of negative feelings when they have to deal with health problems. If you're suffering from anxiety or depression because of your back pain, our West Orange back pain specialists suggest opening up and talking to your loved ones about your problems. You should also seek professional help from your doctor or from a therapist who can help you change your mindset and become more positive.
Monitoring your health markers
If you regularly monitor your body fat, weight, blood glucose, and other important health markers, you have better chances to prevent back pain. Keeping these measurements in check will allow you to determine the ways in which your lifestyle is affecting your health. Our back pain physicians also recommend paying attention to your sleep patterns, your mood, and your daily energy levels.
There are many lifestyle changes that you can make to reduce your neck and back pain. Did you know that there's a connection between the percentage of body fat and the amount of inflammation that you have in your body? Studies have shown that body fat is a major contributor to back pain.
Keeping your measurements in check will allow you to have a better understanding of the ways in which your behavior affects your quality of life. Monitoring will also offer you insight into those lifestyle behaviors that are not helpful or effective such as poor diet, inactivity, and over-the-counter medication.
If you want to learn more about managing and alleviating your neck and back pain, you can schedule an appointment with one of our back pain specialists. Come see us at our West Orange pain center and talk to Dr. Laura Lombardi, Dr. George Hanna, or Dr. Shane Volney about interventional pain management and state-of-the-art treatment options for neck and back pain. At our West Orange, NJ Pain Center, near the Essex Country Club.