Are you suffering from debilitating back and neck pain? You are not the only one! Did you know that nine out of ten Americans suffer from back pain at least once in their lifetime? According to the American Chiropractic Association, back pain is the main cause of disability, not just in the United States, but worldwide. For young people who are under 40, severe back pain is the number one reason for missing work and for feeling weak and unable to lead a healthy and normal life. In other words, at any given time, this common affection disables as much as two percent of the American workforce.
If your back pain is severe, our Harvard-trained back pain specialists advise getting a firm diagnosis and a customized treatment plan. By searching for a renowned back pain specialist near me in NJ and by scheduling an appointment, you tackle the back problem early on and you avoid becoming inactive and in poor health. Our Pain Treatment Specialists can help you find relief in three convenient locations – in Clifton, in West Orange, and in Paramus, NJ. One of our amazing back pain specialists is always available and will offer minimally-invasive solutions to help you manage and relieve your back pain.
The nerves, ligaments, muscles, bones, cartilage that make up your back and spine are quite prone to injury and disease. This is mainly owed to the fact that the spine is the main corridor for movement and sensation. There are many different conditions that can lead to back pain, but the most common ones are sciatica, skeletal irregularities, muscle or ligament strains and sprains, arthritis, bulging or ruptured discs, and osteoporosis. All of these conditions can cause chronic back pain and can be treated effectively by one of our Harvard-trained back pain doctors with minimally-invasive pain treatments.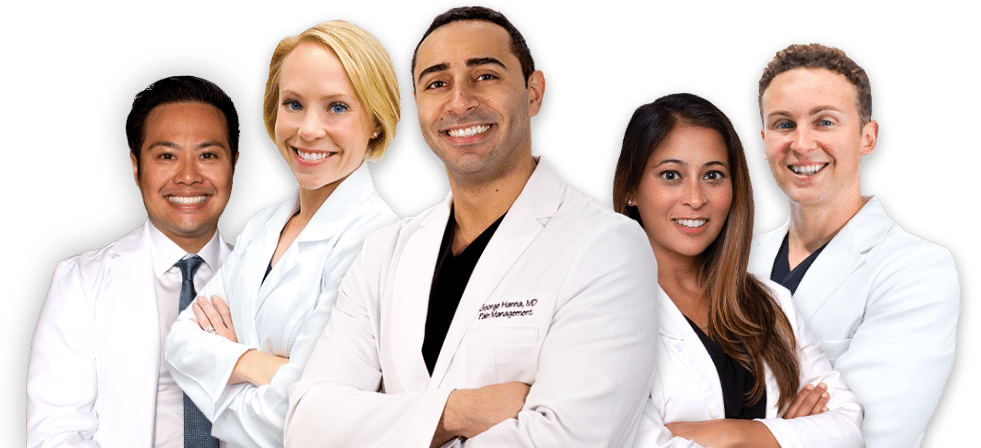 Common Symptoms Associated with Back Pain
If you are suffering from a back condition that generated back pain, you might experience the following symptoms:
Unexpected stabbing sensations
Sudden and persistent muscle aches
Burning sensations down your leg
Tingling and numbness
Pain that worsens when you stand up, lift things, or lean
Pain that subsides when you rest and lay down
The symptoms mentioned above are quite common when it comes to neck and back pain, but they can also indicate the presence of serious conditions. If any of these symptoms persist or worsen, do not hesitate to schedule an appointment with one of our renowned back pain specialists. Living with chronic back pain can make your life hard and prevent you from being productive at work and from doing the things you love. The good news is that returning to a life without back pain is not as difficult as you think. All you have to do is to search for a "back pain specialist near me NJ" to get a minimally invasive treatment.
Come visit us in our New Jersey pain relief clinics where you'll have the opportunity to meet Dr. George Hanna, Dr. Michael Nguyen, Dr. Laura Lombardi, and Dr. Shane J. Volney. We use advanced diagnostic tools to find the source of your neck and back pain and we offer a wide range of painless treatments.
If your neck and back pain is accompanied by symptoms like fever, loss of bladder and bowel control and loss of appetite make sure you seek immediate medical attention.
Common Causes of Neck and Back Pain 
People experience many types of back pain, so it comes as no surprise that there can be a lot of different causes. To get proper care, it's very important to find a back pain specialist who will determine the correct diagnosis. There are many different doctors that can treat the symptoms associated with back pain, but only a board-certified back pain specialist will be able to pinpoint the underlying issues that trigger your pain and offer a minimally-invasive treatment.
So, to help you understand what you are going through a little better, let's take a look at some of the most common causes behind neck and back pain:
Injuries – Overexertion, accidents, falls, and athletic strains will often lead to severe back pain. If your back pain appears suddenly, try to remember if you've hurt your back accidentally.
Herniated disc – Your vertebral bones are separated by discs that have a soft center and a tough outer layer. Through damage or with age, these discs can slip and pinch the spinal nerves triggering severe back pain, known as sciatica.
Scoliosis – This spinal malformation is another common cause of back pain. A lot of adults suffer from scoliosis, but it can happen to young people as well.
Osteoarthritis of the spine – This condition consists of a cartilage malfunction and it generally affects the neck and lower back. If your back pain is accompanied by weakness and pain in your legs and arms, you might be dealing with osteoarthritis.
Spinal stenosis – When the spaces within your spine become narrower, a lot of pressure is put on the spinal nerves. This leads to neck and lower back pain.
If you suspect that you might be suffering from one of these conditions, come see our back pain doctors in New Jersey.
Neck and back pain – FAQ
Should I see a back pain specialist near me in NJ for my back pain?
 If your pain worsens over time and does not seem to go away with home remedies and rest, it's highly recommended to see a back pain specialist near you. Shooting pain, numbness, weakness, or other abnormal sensations in your arms or legs are signs that you might be dealing with something serious. If your pain is accompanied by fever, nausea, and bowel or bladder problems, make sure you see a doctor immediately.
How do I relieve back pain?
For mild back pain, you should start by resting your back. Other effective options that you should try are exercising and strengthening your core, getting enough restorative sleep, stretching your hamstrings daily, and applying hot and cold compresses to soothe the pain.
Chronic neck and back pain can be disruptive and debilitating. If you feel like you can't live life to the fullest because of it, you should know that there are many treatment options that can alleviate your pain. Our back pain specialists can offer different types of minimally-invasive procedures such as COOLIEF SI Joint Cooled RF, Lumbar Radiofrequency Ablation, Lumbar Facet Injection, SI Joint Injections, and Lumbar Epidurals. Our back pain doctors advise against using narcotics and undergoing surgery before trying these effective treatments.
Where can I find a back pain specialist near me in New Jersey?
If you are searching for a board-certified back pain specialist in New Jersey, you've come to the right place. Our Harvard-trained back pain doctors are happy to help you get rid of your neck and back pain. Schedule an appointment with one of our amazing back pain specialists and come visit us in our pain clinics in Clifton, NJ, on Route 46 E, past the Ford dealership, in West Orange, near the Essex Country Club, and in Paramus on Route 17, near the Paramus Park Mall.