With the rise in popularity of online or pre-recorded workouts, many people are taking a leave of absence from the couch to get moving and stay fit. You've warmed up, completed your stretches, and grabbed your makeshift soup cans turned small hand weights. Halfway through your workout, you turn a little too quickly transitioning from one movement to the other. Ouch! Your back tells you it's time to hit pause and try again another day.
If you've ever suffered from back pain, you're not alone. Over 80% of Americans will suffer from back pain at some point in their life. You begin to search the internet for a back doctor near me, and type in the phrases "back pain specialist NJ", "advanced rehab Jersey City", "back pain doctor Clifton NJ", "back pain doctor Edison NJ" and "spine specialist NJ" to find a back pain doctor in NJ. You see that Pain Treatment Specialists keeps appearing at the top of every search list, and decide to dig a little deeper to learn about these pain doctors near me. What you find is that these Harvard trained pain doctors are not only double board certified, but also have excellent patient reviews.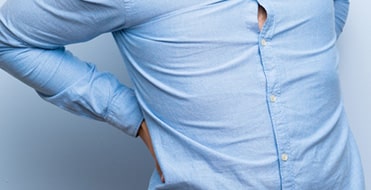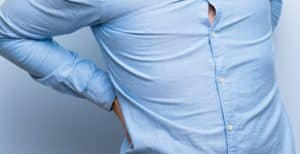 Who Are The Top Back Pain Doctors in NJ?
In addition to being the top back pain doctors in NYC, Pain Treatment Specialists also has two pain clinics in the Garden State– one in Clifton and one in West Orange. Our back pain specialists are carefully vetted to ensure only the most highly-qualified doctors treat patients suffering from back pain. Our back pain doctors in NJ include:
Shane Volney: A former faculty member at Harvard Medical School, Dr. Volney's expertise as a back pain specialist is matched by his ability to carefully listen to patients' pain concerns. For patients searching for the "best pain doctors near me", Dr. Volney's double board certification and excellent reputation as a back doctor are of the highest quality and caliber.
Laura Lombardi: As a former Division 1 athlete, Dr. Lombardi understands an athlete's desire to perform at their highest capacity, and without back pain. As one of the top back pain specialists near me, Dr. Lombardi's speciality is treating chronic back pain without surgery and by using minimally-invasive treatments for injured facet joints, herniated discs, and arthritis.
If you live in the Garden State and are searching for a back pain specialist in NJ, look no further than Pain Treatment Specialists, with locations in Clifton and West Orange.
How Do I Describe Back Pain to A Pain Management Specialist?
This might sound like a straightforward question, but for people who experience chronic back pain, it becomes a part of your daily life. You might be so used to living with back pain that finding the proper words and phrases to describe your back pain are challenging. You also want to use accurate phrases and descriptions so your pain doctor can properly diagnose your pain issues. Here are some tips for describing your pain to a back pain doctor in NJ:
Be Honest About Your Medical History: Our board certified pain management specialists will not judge any facts about your medical history. However, it helps paint a clearer picture about your overall health and activity levels, so be honest about your medical history with your back pain Dr.
Keep a Pain Diary: For a week or two before your appointment, keep a record of your activity levels, lower back pain, or neck pain. Do you feel more or less back pain when you wake up, doing certain activities, or when you finally sit or lay down for the day? Being able to isolate movements or activities that cause the greatest amount of back pain is useful for your back pain doctor.
Use a Numeric Scale to Describe Pain:  Another item to add to your pain diary is a numeric scale that identifies what activities cause the most pain. Using a 1-10 scale (1 is none or minimal, 5 is noticeable, 10 is excruciating) keeps track of how intense your back pain feels during different times and activities.
At Pain Treatment Specialists, our caring and compassionate pain doctors in Clifton and West Orange are ready to listen to your back pain concerns and create customized solutions.
What Are Some Minimally-Invasive Back Pain Treatments?
No one wants back surgery or an orthopedic surgeon in their life if they suffer from chronic back pain. At Pain Treatment Specialists, we feel the same way! Our back pain specialists are trained in minimally-invasive pain management methods as the top spine specialists in NJ. Some of our back pain treatments include:
Lumbar Facet Injections: Also known as a lumbar facet block, this injection uses local anesthetic and targets the small joints located along the side of each vertebra. These are located on each side of the spine in the lower back. If you suffer from lower back pain due to arthritis, then a lumbar facet injection provides targeted pain relief.
Lumbar Radiofrequency Ablation: If you suffer from an inflamed lumbar facet joint, then lumbar radiofrequency ablation is an effective back pain treatment. The resulting heat energy from electromagnetic waves is used to target precise nerve endings that generate pain signals to the facet joint. The result is increased mobility and better support in the spinal column.
Contact the team at Pain Treatment Specialists, with locations in both Clifton (just past the Fette Ford Dealership) and West Orange (near the Essex Country Club) to discuss your back pain concerns. After all, getting in your daily workout is critical to maintaining your health and mental state…even if you're using soup cans for weights!