Heading outside for a brisk spring hike? Pick a solid pair of boots, pack your backpack full of water and snacks, and get ready to explore the great outdoors! As you begin your ascent, you realize that recent spring rains have made the ground less than desirable for traction. Saying that you're walking through a muddy, Woodstock-like field is an understatement. Your boot becomes lodged in a vortex of pooling grime, and you work to free your stranded leg. Refusing to quit, you give it a yank before your whole leg becomes a victim of the sludge. As you free your boot, the odd jerking motion leaves your back screaming with pain. What just happened, and why is it preventing you from enjoying the rest of your afternoon?
Back pain affects millions of people every year, and ranges from temporary discomfort, to life-altering pain. No matter the degree of your chronic back pain, you owe it to yourself to see a back pain doctor in New Jersey, such as the Harvard trained team at Pain Treatment Specialists. Using interventional pain management techniques, our pain doctors work with each patient to create a customized back pain treatment plan. Using minimally-invasive treatments for problematic facet joints, herniated discs, and lower back pain, our pain management specialists are the best back pain doctors in New Jersey.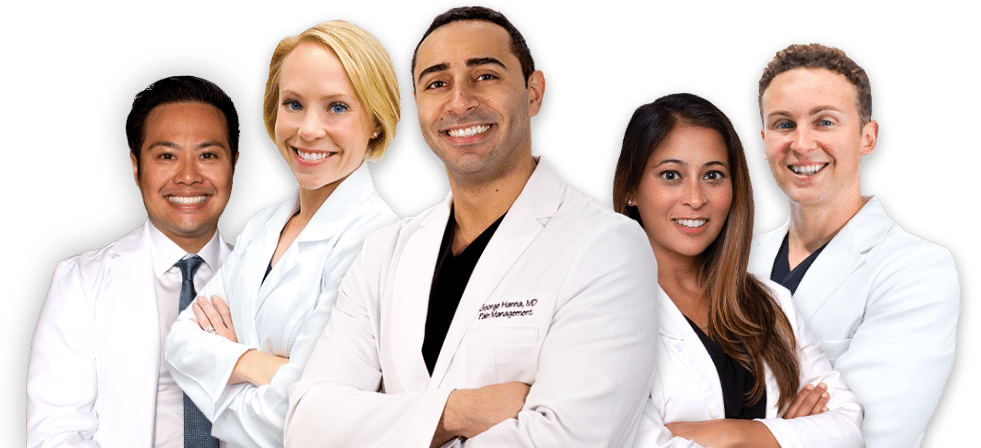 How Do Back Pain Doctors in New Jersey Treat Pain?
Your back pain doctor in New Jersey's goal is returning you to all of the activities you love (like hiking!) using minimally-invasive pain management procedures. Many people avoid seeking professional medical advice about their back pain because they're positive that the only option for pain relief is surgery. It doesn't matter if you experience pain due to an accident or injury, or just wear and tear, minimally-invasive treatments are highly-effective for treating chronic back pain. At Pain Treatment Specialists, here are some of the treatments utilized for back pain and lower back pain:
Sacroiliac (SI) Joint Injection: An SI Joint injection provides targeted pain relief and reduced inflammation in the sacroiliac joint, located in your lower back. Your pain doctor uses a special x-ray to guide a local anesthetic into the sacroiliac joint, and then delivers an injection of local anesthetic to this area.
Lumbar Radiofrequency Ablation: Your pain management specialist uses this state of the art back pain treatment that literally moves at the speed of light! If you suffer from lumbar facet joint arthritis, this pain treatment is highly-effective and delivers heat energy precisely to your affected nerves. By blocking the pain signals sent from these nerves to your facet joint, tremendous pain relief is achieved with little to no down time.
Lumbar Epidural: Also known as an epidural steroid injection, this highly-effective back pain treatment combines a corticosteroid with a local anesthetic for back pain relief. If you suffer from sciatica or lower back pain, a lumbar epidural provides life-changing pain relief.
Meeting with a back pain doctor in New Jersey, such as the Harvard Medical School educated team at Pain Treatment Specialists, is the first step in finding back pain relief.
What Are Common Symptoms of Back Pain?
When you experience back pain, it may feel like it comes out of nowhere. Sharp, stinging pain that stops you in your tracks, followed by decreased mobility, is a common sign of a back injury or lower back pain. Meeting with a back pain doctor in New Jersey is one way to identify the specific source of your back pain, as well as effective back pain treatments. Some common symptoms  of back pain include:
Pain that radiates down your legs.
Pain that feels more intense when you sit, stand, bend over, walk, or lift objects.
A shooting or stabbing pain that produces intense discomfort when moving.
A dull, constant muscle ache in your lower back.
Back pain that becomes worse with certain motions.
Pain that decreases when you recline or lay down.
If your back pain includes any of the following symptoms, you should contact your physician immediately, as they are signs of a more serious underlying issue:
Incontinence
Numbness or tingling in the groin or glutes
Sudden weakness or tingling in your legs
Discuss these symptoms of back pain with your pain doctor honestly to help your pain management specialists determine the exact location of your chronic back pain.
Who Are The Best Back Pain Doctors in New Jersey?
You won't find a more qualified and experienced team of back pain doctors than the team at Pain Treatment Specialists. All of our Harvard trained doctors are not only experts in the field of interventional pain medicine, but also kind practitioners who care about your overall well-being. Here are some of the best back pain doctors in New Jersey:
Shane Volney: Dr. Volney is a former faculty member at Harvard Medical School, and is a nationally-recognized leader in the field of pain medicine. He is double board certified in anesthesiology and pain medicine by the American Board of Anesthesiology, and works with each patient to create a back pain treatment plan that addresses a patient's overall health and well-being.
Laura Lombardi: Like Dr. Volney, Dr. Lombardi is also double board certified in anesthesiology and pain medicine. She specializes in neck pain, back pain, and joint pain, using state of the art treatments that are tailored for each person's pain concerns. Dr. Lombardi's expertise is regularly on display at national medical conferences, and she is also an author in medical textbooks specializing in the latest pain management treatments.
If you're ready to get back on the hiking trail, mud and all, it's time to contact the best back pain doctors in New Jersey at Pain Treatment Specialists. Pain Treatment Specialists have two locations in New Jersey for patients' convenience. The first is in Clifton, right off of Route 46 E just past Fette Ford. The second clinic is in West Orange, and is located near the Essex Country Club. Don't let a little muddy misadventure stop you from living life to its fullest.