"What's for dinner?" This question is echoed throughout households in New Jersey, where food is a focal point for family time and conversations. When you realize that you've completely forgotten to plan a meal for the evening, you dash off to the store for a few quick items. With your mind on autopilot, you hastily bend, stoop, and reach for the items you need and head for the checkout. Suddenly remembering that you're out of laundry detergent, you speedily head to the household aisle. You stretch your arms to grab the largest economy size jug and inch it off the shelf. Right as you're about to grab it, your back seizes. Apologizing as you leave the store empty-handed, your next stop is the couch for the evening… along with some delivered pizza.
You don't have a medical history of back pain, so what was this pain due to? Back pain is a common ailment that affects many people every year, sometimes with no warning. You begin searching for a back pain doctor near me in NJ to help explain what just happened, as well as ways to eliminate the pain. At Pain Treatment Specialists, our pain doctors are experts in chronic back pain, as well as acute back injuries. Their minimally-invasive back pain treatments are designed to relieve back pain and get you back on your feet quickly.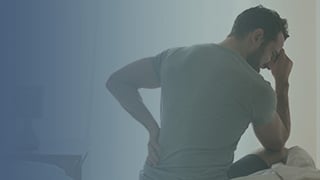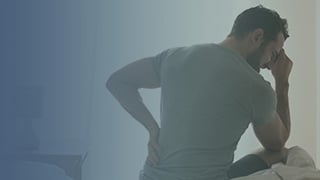 Who is the Top Back Pain Doctor Near Me in NJ?
Any time you're looking for a new doctor, what are the questions you'd like to see answered? You may want to know about their educational background, whether or not they are board certified by the American Board of Anesthesiology, and what other patients say about their experiences at their back pain clinic. At Pain Treatment Specialists, the top back pain doctor near me in NJ, our pain doctors' bios speak for themselves:
Laura Lombardi: As a top back pain doctor in NJ, Dr. Lombardi is double board certified in anesthesiology and pain medicine, and completed an Interventional Pain Medicine fellowship at Harvard University. Her expertise in the field of interventional pain management and minimally-invasive back pain treatments is noted in medical textbooks, where she has authored chapters on this topic.
Shane Volney: Who wouldn't want a former faculty member of Harvard Medical School explaining why their back hurts to them? Dr. Volney spent 7 years as a Clinical Instructor in the fields of pain medicine, palliative care, and anesthesiology at Harvard Medical School. As one of the best back pain doctors near me in NJ, Dr. Volney's outstanding reputation as a kind and caring pain doctor is evidenced by the multiple glowing online reviews.
If you're ready to meet the top pain doctors in NJ, look no further than Pain Treatment Specialists. With two locations in northern New Jersey, our back pain clinics are not only state of the art, but also housed with the best back pain doctors in New Jersey.
What Minimally Invasive Treatments Are Available for Chronic Back Pain?
Finding a great pain doctor is the first step on the road to a pain free life. The next step is scheduling an appointment at Pain Treatment Specialists, and listening to the different options that are available to treat chronic back pain.The top back pain doctors near me in NJ do not recommend surgery as an option unless medically necessary, and prefer to use cutting edge, minimally-invasive back pain management treatments. Some of the back pain treatments offered at our back pain centers in NJ include:
Lumbar Radiofrequency Ablation: Do you have an irritated or inflamed lumbar facet joint? Then lumbar radiofrequency ablation is an excellent treatment for your chronic back pain. This highly-effective back pain treatment in NJ uses heat energy generated from electromagnetic waves to target specific nerve endings. This heat energy then blocks the pain signal sent from the troublesome nerve to your facet joints. When the procedure is finished, you'll find yourself with a significantly less amount of pain and an increased level of mobility.
Lumbar Facet Injections: An injection is a quick way to treat chronic back pain with minimal down time. During this back pain treatment in New Jersey, your back pain doctor uses a local anesthetic to target the small joints located along the side of each vertebra. For patients experiencing lower back pain, this is an effective treatment to reduce pain and swelling.
Lumbar Epidural: This back pain treatment is also known as an epidural steroid injection, and this combines a local anesthetic with a corticosteroid for enhanced back pain relief.
Your back pain doctor uses their expertise in the diagnosis and treatment of back pain to determine which of their back pain treatments is right for you. Contact the team at Pain Treatment Specialists to set up your consultation and discuss one of these minimally-invasive back pain treatments.
Why is Interventional Pain Management Better Than Surgery?
When you think of "back pain doctor near me in NJ", you might also think of the word "surgery." This is because many people believe that surgery is the only way to alleviate chronic back pain. That's simply not the case! At Pain Treatment Specialists, our back pain doctors have spent their careers learning and perfecting pain medicine, which is designed to use minimally-invasive methods to treat back pain. Here's why our team avoids surgery unless medically necessary:
Surgery is Dangerous: Any time you go under the knife for a major procedure, there are serious risks involved. Your body may not tolerate the surgery well, and there's always the risk of infections or complications.
One Surgery Might Not Be Enough: What happens if you're still in pain after your initial surgery? Your orthopedic surgeon in NJ may recommend a second surgery, with still no guarantee that you'll feel better.
Pain Pills Are Addictive: Opioids are often prescribed after a major surgery, and patients become unintentionally addicted while trying to find pain relief.
Want to ditch delivery for dinner? The top back pain doctor near me in NJ is found at Pain Treatment Specialists  who have two locations in New Jersey for patients' convenience. One location is in Clifton, right off of Route 46 E just past Fette Ford. Our newest location is in West Orange, and is located near the Essex Country Club. Both back pain clinics are staffed with the most experienced and qualified back pain doctors in NJ.