If you are suffering from severe back pain, you are not alone. This common condition affects a lot of people. According to a recent study conducted by the American Chiropractic Association on back pain indicated that this condition affects more than 80% of Americans at least once over the course of their lives. Although back pain can be quite debilitating and can have emotional and psychological consequences, a lot of people suffer in silence instead of seeing a professional.
Not being able to do go to work, to do the things you love, and to engage in regular day-to-day activities will have a negative impact on your mood. By scheduling an appointment with a back doctor in Paramus, New Jersey, you can get rid of your back pain and get your life back on track. Being in constant pain doesn't only affect your physical health, but it can also affect your relationships, and not finding an effective treatment will most likely generate a lot of stress. So, if you are suffering from debilitating chronic or acute back and neck pain, seek professional help as soon as possible. A board-certified back doctor near you can offer valuable advice, diagnose your condition correctly, and offer effective minimally-invasive treatment.
Our Paramus, New Jersey back doctors focus on helping patients recover and manage their back and neck problems by recommending physical therapy and non-surgical procedures. The most common causes of back pain that our doctors treat on a daily basis are sprains and tears, herniated disks, arthritis, skeletal irregularities, and osteoporosis. If your back pain is too persistent and doesn't go away with rest and other home remedies, schedule an appointment with Dr. George Hanna, Dr. Laura Lombardi, or Dr. Shane Volney – our Paramus, NJ back doctors.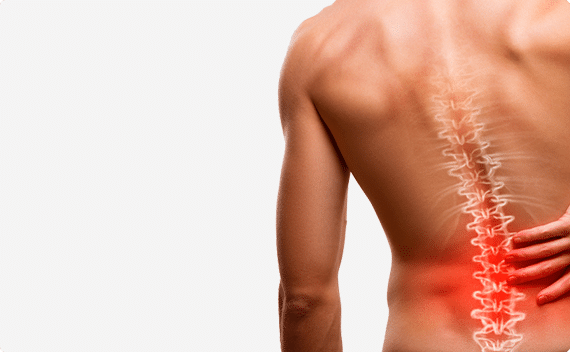 How Does the Back Work?
The back is one of the strongest parts of the human body and it is responsible for our overall strength and flexibility. But, unfortunately, our posture, our longevity, and our daily habits make us very susceptible to back problems.
Also referred to as the spinal column, the backbone, or simply the spine, your back is made up of 24 vertebrae (bones) that are positioned vertically on top of one another. In-between each of your vertebrae, there are discs, strong muscles, and ligaments. The vertebrae protect the spinal cord which connects the brain to the rest of the body through nerve roots.
The back also includes the facet joints, which run from top to bottom on each side of the spine and connect the bones of the spine. The facet joints give you mobility and keep your back from bending and twisting too much. They also have nerve roots passing through them and making the connection between the spinal cord and your arms and legs.
The lower back or the tailbone is made up of bones that are fused together and that don't have any discs between them. As you grow older, your back does as well, and so do your disks, your joints, your ligaments, and your muscles. The structure of the back will generally remain strong, but other parts of the back can become stiff with age.
However, back pain can affect people of all ages including adolescents and young adults. Most of the time, back pain is not caused by a life-threatening condition, so you shouldn't assume that the only solution is surgery. Most patients get rid of their back pain with physical therapy and minimally-invasive treatments.
What Are the Main Causes of Back Pain?
Back pain doesn't always have one simple cause and finding the issues that trigger your back pain can be difficult. A board-certified back doctor can help you manage and understand your back pain and can diagnose it correctly.
The most common causes of back pain treated by our Paramus, New Jersey back pain specialists are:
Incorrect posture
Lack of exercise
Inflammation
Fractures
Strains and sprains
Bulging or ruptured disk
Spondylosis
Sciatica
Spinal Stenosis
Osteoporosis
Who Are the Best Back Doctors in Paramus, New Jersey?
Our Paramus, New Jersey back doctors stand out because they care about their patients and they take an integrated approach to health. At our Paramus pain management clinic, Dr. George Hanna, Dr. Laura Lombardi, and Dr. Shane Volney don't just look at your spine, they analyze your medical history, your symptoms, your overall health, and they offer their undivided attention. To offer a correct diagnostic, our board-certified specialists will ask you about your daily habits, your posture, your lifestyle, and will make a thorough assessment of your condition. This approach is extremely efficient and it allows us to offer an effective treatment that will satisfy your needs and help you become more active and improve your quality of life.
Dr. George Hannah, Dr. Shane Volney, and Dr. Laura Lombardi of Pain Treatment Specialists offer a wide range of minimally-invasive treatment solutions such as Lumbar Radiofrequency Ablation, COOLIEF SI Joint Cooled RF, SI Joint Injections, Lumbar Facet Injections, and Lumbar Epidurals. Our main goal is to alleviate your pain and to help you avoid surgery. If your back pain is persistent and prevents your from doing the things you love, come meet our friendly staff and our Harvard-trained back pain specialists in our Paramus, New Jersey clinics where we offer cutting-edge treatments. You can find us in Paramus, just off NJ-17, near the Paramus Park Mall and the Garden State Plaza Mall or in our other conveniently-placed New Jersey locations: West Orange, near the Essex Country Club and in Northern New Jersey, on Route 46 E, past the Ford dealership.
As mentioned above, our main goal is to help you get rid of your back pain through non-surgical treatments and to help you avoid narcotics and back surgery. Our Harvard-trained neck and back pain specialists will offer painless and minimally invasive treatments based on your needs and preferences. Back pain can affect you on many different levels and you shouldn't be afraid to seek professional help. Call us at (855) 637-1915 and our friendly staff will schedule an appointment with one of our board-certified back doctors – Dr. Laura Lombardi, Dr. Shane Volney, or Dr. George Hanna.