At Pain Treatment Specialists, our Harvard-trained back pain doctors focus on helping you manage and get rid of your back and neck pain. By analyzing your condition and your medical history, our back pain specialists recommend effective treatments that can increase your mobility and make you feel healthy and in great physical shape. You will be able to enjoy your favorite activities once again and you won't have to worry about not being able to clean your home, go to work, or go grocery shopping.
Our back pain specialists are up-to-date with the newest non-surgical back pain treatments available on the market. We help people who suffer from spine conditions, chronic back pain, and back injuries every day. We have three locations in the state of New Jersey (in Clifton, in West Orange, and in Paramus) where you can meet with our board-certified pain management specialists who will offer a friendly and comprehensive approach to ensure that your back pain is treated correctly, without surgery or narcotics. Most patients are unaware that their back problems can be solved without spinal surgery, which can be extremely harmful in the long run. At Pain Treatment Specialists, we offer several types of interventional pain management solutions such as lumbar radiofrequency ablation, lumbar facet injections, lumbar epidural, and more.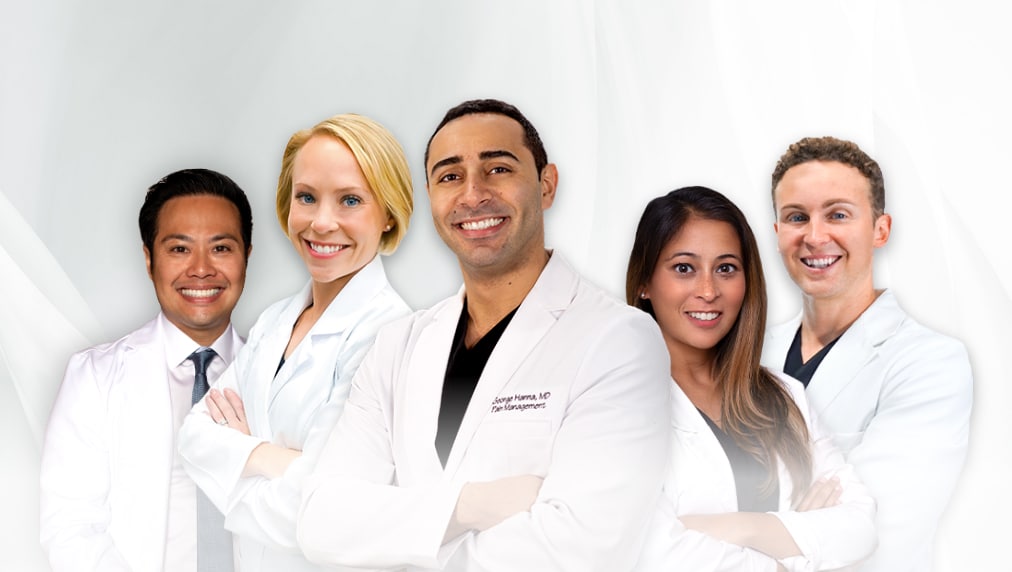 If you are currently suffering from debilitating back pain, we recommend seeing a board-certified back pain specialist in New Jersey. Relying on a chiropractor or on your primary care physician is not enough. The only things your primary care physician will help you with is offering advice, ordering an MRI, and determining the causes of your pain. Our Harvard trained back pain physicians are a better option because they will take a more comprehensive approach and will offer minimally-invasive solutions.
 When should you see a Back Pain Specialist in NJ
If your backache doesn't go away and it is interfering with your daily activities, we highly recommend consulting a pain management specialist. A back pain that gets worse and worse can indicate that you are dealing with a more serious condition. The faster you seek professional help from a board-certified pain management specialist, the better your chances are to get minimally-invasive treatment.
A good pain doctor will analyze your condition and your medical history and will recommend the best treatment available. If your pain has any of the following characteristics, then you should book an appointment with a back pain specialist as soon as possible:
Your back pain is consistent and tends to get worse.
The pain appeared after a fall, a car accident, or another traumatizing incident.
You tried to relieve your back pain with home remedies and rest but it didn't work.
Your back hurts at night and the pain wakes you up.
You feel numbness in your groin area, buttocks, or upper inner thighs.
When your back hurts, your stomach hurts as well.
If your back and neck pain travels down your legs or down your arms, you experience numbness, tingling, and general weakness, you might be dealing with a neurological problem. Our Harvard-trained pain specialists can treat your condition and can help you avoid taking medication or undergoing surgery. 
What Are the Most Common Causes that Lead to Back Pain?
It is quite common for back pain to develop without an apparent cause. A back pain specialist can easily identify the underlying problem that's causing your back pain by doing different tests and imaging studies. Our experienced New Jersey back pain doctors deal with a wide range of conditions that lead to back pain. These are the most common ones:
Muscle and ligament sprain, strain, and tear – If you've done a lot of heavy lifting or moved your back suddenly, then you are probably dealing with a sprain, a strain, or a tear. If you are not in good physical shape, using your back excessively can hurt your muscles and ligaments and lead to painful spasms.
Herniated or bulging disc – This common condition is also known as a ruptured disc or a slipped disc. If you are experiencing shooting pain in your lower back and down your legs, tingling, and weakness you might be dealing with a herniated disc.
Arthritis – The term arthritis is used to describe hundreds of conditions that affect the joints, their surrounding tissue, and the connective tissue. This condition can develop anywhere along the spine, but it is commonly found in the neck and lower back areas. The main causes and risk factors of spinal arthritis are excessive weight, age, and other conditions like tuberculosis, diabetes, Lyme disease, etc.
Skeletal irregularities – The most common skeletal irregularities that lead to back pain are scoliosis, lordosis, and other congenital anomalies. Scoliosis generally happens just before puberty, during growth spurts, and consists of a sideways curvature of the spine. Lordosis, on the other hand, is an inward curvature of the spine and is usually found in the lower back.
Osteoporosis – Spinal compression fractures are the most common cause of osteoporosis pain. The first signs of osteoporosis pain are severe backache that worsens when you stand up, walk, or do different activities, and sharp pain when you bend and twist your body.
 How to Prevent Back Pain
If you are already suffering from back pain, it's best to schedule an appointment with one of our back pain specialists at our New Jersey clinics. But, if you arent' suffering from back pain or if your pain isn't very severe, it's important to know how to prevent it and how to prevent its recurrence. The key is to learn and practice correct body mechanics and to improve your overall physical condition.
To have a strong and healthy back, make sure you do the following:
Exercise regularly – Aerobics and low-impact physical activities that don't jolt or strain your back are extremely effective. Regular exercise will keep your muscles healthy and you'll have more back strength and endurance. The best physical activities to prevent back pain are walking, swimming, stretching, Yoga, etc.
Work on your flexibility and muscle strength – Core-strengthening exercises that work your back and abdominal muscles are quite effective. Making sure that you have flexibility in your pelvic bones and upper legs will make your back feel lighter.
Stand and sit smart – Avoid slouching and try to maintain a neutral pelvic position. If you spend a lot of time standing up, try to place one foot at a time on a step or on a low footstool to reduce the pressure on your back. Back pain can be prevented with a good posture. If you spend too much time sitting down, try to choose an ergonomic seat with good lower back support, swivel base, and armrests. Don't forget to change your position every half-hour and to stretch your back regularly.
Achieve and maintain a healthy weight – One of the main causes of back pain is excess weight. The extra kilos strain your back muscles, so, if you want to avoid having back problems, make sure you trim down.
Quit smoking – Smoking is a bad habit that, over time, takes a toll on your body. To prevent backache and other serious health issues, you should quit smoking.
Avoid heavy lifting – Our Harvard-trained back pain specialists recommend against lifting heavy things, especially if you are not in good physical shape. But, if you must lift something, try to let your legs do most of the work. Avoid twisting your back, hold the object close to your body, and ask someone to help you.
A lot of people suffer from back pain and most of them are unaware that back pain specialists can recommend minimally invasive treatments that work wonders. If you've experienced debilitating back pain, then you are aware of how awful it feels not being able to do simple tasks like cleaning the house, lifting heavy objects, and going grocery shopping. The good news is that if you book an appointment with one of our talented Pain Treatment Specialists at our New Jersey pain clinics, you will finally get rid of the pain.
We offer a wide range of minimally-invasive treatment options that and we will do everything we can to help you avoid surgery. Come meet our team of board-certified back pain specialists in any of our New Jersey clinics and get rid of that annoying back pain once and for all. You can find us in Paramus, just off NJ-17, near the Paramus Park Mall, in Clifton, NJ, on Route 46 E, past the Ford dealership, and in West Orange, near the Essex Country Club.