Neck and back pain are complex issues that can be caused by a wide range of processes. Back pain can be triggered by muscle strains, bone fractures, slipped discs, joint dislocations, or irritation of the spinal nerves. There are many variables that make diagnosing back pain a bit tricky. For example, some patients will experience a sharp and sudden back pain that lasts for short periods of time, while others might experience dull pain that lasts for several months.
 By finding the best back doctor NJ has to offer, your chances of getting rid of your debilitating back pain will grow significantly. Every single neck or back pain should be addressed and treated differently. A board-certified back pain specialist will analyze your medical records, discuss your symptoms with you, and offer an effective customized treatment. Our Harvard-trained pain treatment specialists focus on offering minimally-invasive treatments that have a high success rate and that might help you avoid pain medication and surgery.
Are suffering from persistent neck and back pain that prevents you from doing the things you love? You are not alone! More than 80% of Americans will go through this at least once over the course of their lives. So, it's safe to say that back pain is a very common health problem which is why the best back pain specialists NJ has to offer will answer some of the most pressing questions. Read on to learn more about neck and back pain from an experienced back pain specialist.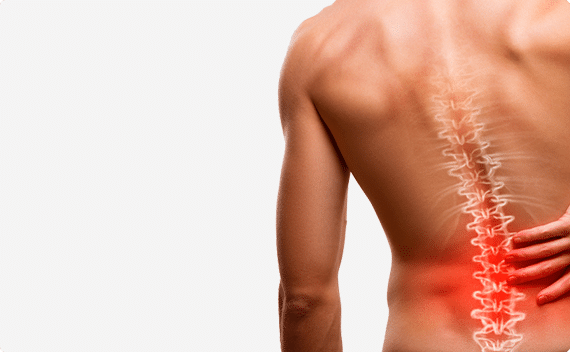 What are the most common types of back pain?
At Pain Treatment Specialists you'll find the best back specialists NYC has to offer. Dr. George Hanna and Dr. Laura Lombardi will analyze your symptoms and offer a tailor-made treatment that will relieve your back pain be it chronic or acute. The most common types of back pain that we treat in our advanced spine centers are:
Sharp pain that occurs in one area
Pain that becomes more severe when you bend or twist your back
Neck pain that travels down your arms
Dull pain in your lower back (can travel down your legs)
To get an accurate diagnosis and an effective treatment plan, it's very important to describe your symptoms and your pain as accurately as possible. Make sure you give your back pain doctor an accurate description of your discomfort. Keep a record of when your pain started, its intensity and duration, and try to think of what might have triggered it. You should also mention other related symptoms such as weakness, tingling, numbness, fever, etc.
When should I see a back pain doctor near me?
If your back pain is persistent and worsens over time, you should definitely start looking for the best back pain doctor available in your area. Schedule an appointment with one of our NJ back pain specialists if your symptoms don't improve with rest and other home remedies. Persistent back pain can be quite dangerous, especially if it involves a neurological issue.
Do not hesitate to visit one of our NJ Spine Centers if your pain has any of the following characteristics:
Your back pain is consistent and worsens over time.
Your pain appeared after a fall or an accident.
Your symptoms haven't improved after one month.
Your pain is severe and it hasn't improved after resting for a few days.
You feel a lot of pain at night and you can't sleep because of it.
You feel numbness in your arms, legs, buttocks, or groin area.
Your back pain is accompanied by fever or stomach pain.
Your pain travels down your arms or legs.
What Are the Most Important Risk Factors for Back Pain?
There are many risk factors that can increase your chances to develop neck and back pain – your occupation, posture, weight, daily habits, aging, and genetics to name a few. Let's take a closer look at these risk factors and see how each of them might trigger back pain.
Aging – Your spine is a complex mechanism that might get rusty over time due to wear and tear. Back and neck pain is more prevalent in people who are over the age of 30 or 40. Younger individuals will generally suffer from disc-related problems like herniated or slipped discs, while people who are over the age of 60 are more likely to suffer from osteoarthritis.
Occupation – You are extremely likely to suffer from back pain if your job requires you to lift heavy objects and to bend your spine repeatedly. However, sedentary jobs aren't much safer either. Standing in front of the computer for extended periods of time is very bad for your back. In fact, sitting in any position for more than 20 minutes, without taking a break to stretch your back, will reduce your muscle, ligament, and tendons' flexibility.
Excess weight – If you have a few extra kilos, you should know that you might be putting a lot of pressure on your lower back, and on your other joints. Your spine is designed to carry a limited amount of body weight. Even people who have a normal weight need to rest after they put a lot of pressure on their spine. Image the effect that excess weight has on your back as your spine is forced to do all the work.
Genetics – Spinal disorders can have a genetic component. If your parents suffer from degenerative disc disease, you might be at risk.
Sedentary lifestyle – As mentioned above, sitting down all day will weaken your muscles, ligaments, and tendons. It is very common for people who have a sedentary lifestyle to develop back problems. To avoid suffering from neck and back pain due to inactivity, make sure you exercise regularly.
It is worth mentioning that back pain is a very common problem and it might affect you even if you don't seem to have any risk factors at all. If you suffer from severe back pain, come see the best back doctor NJ has to offer in one of our advanced spine centers. If you are looking for 'the best back doctor near me' schedule an appointment with Dr. Laura Lombardi, Dr. George Hanna, or Dr. Shane J. Volney and come visit us in our state-of-the-art pain clinics in Paramus on Route 17, near the Paramus Park Mall, in Clifton, NJ, on Route 46 E, past the Ford dealership, in West Orange, near the Essex Country Club.