Does your daily schedule involve spending most of your time sitting on a chair in front of the computer? In this day and age, more and more people develop back problems because they spend their whole day working in awkward positions that put a lot of strain on the back. If this scenario sounds familiar, chances are you're suffering from chronic back pain. And let's face it, you are afraid of scheduling an appointment with a back doctor because you don't want to take narcotics or to undergo surgery. The good news is a good back doctor in Hackensack, such as Dr. George Hanna, Dr. Laura Lombardi, or Dr. Shane Volney, will focus on offering minimally-invasive treatments and on helping patients avoid spine surgery.
If your chronic low back pain is interfering with your daily life and is affecting your ability to work and to lead a healthy life, don't postpone your doctor visit. Our Harvard-trained specialists are considerate, friendly, and will do everything they can to make you feel comfortable. They will analyze your symptoms, your medical history, and will guide you through the whole process. After you receive your diagnosis be it nerve irritation, lumbar strain, or other back-pain causing condition, you will begin your healing process.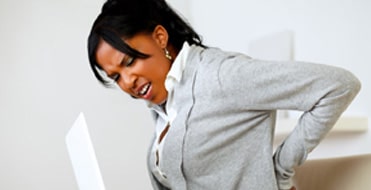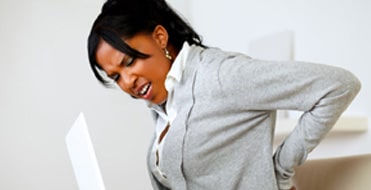 What are the Most Common Causes of Low Back Pain?
 If you are suffering from debilitating back pain, it's very important to know what the most common causes behind this common condition are. Low back pain, also known as lumbar backache, can be triggered by many different back problems such as nerve irritation, bony encroachment, lumbar strain, or problems with the bones and joints. Read on to learn more about some of these low back problems:
What Can a Back Doctor in Hackensack Do for a Lumbar Strain?
Can be chronic or acute and it involves a stretch injury to the soft tissue (muscles, tendons, or ligaments) found in your lower back. A stretching injury is a relatively harmless incident that results in microscopic lesions of varying degrees. The lumbar strain is by far the most common cause of low back pain and our back pain specialists see this condition in a lot of patients.
Stretch injuries can happen to anyone and they can result from trauma, overusing the low back while doing physical activities, or improper use (lifting heavy things incorrectly). When the pain lasts for days to weeks, the lumbar strain is considered "acute". If the pain persists for more than three months, our back pain doctors refer to it as "chronic".
In general, the lumbar strain is a condition that affects people who are over 40, but that doesn't mean that younger people can't experience it. Most patients describe lumbar strain as a localized discomfort or pain that appears in the lower back area after doing intense physical activity or after putting a lot of stress on the lumbar tissues.
Depending on how badly the soft tissue was injured, the severity of lumbar strain ranges from mild to severe. Our Hackensack, NJ board-certified back doctors will diagnose a lumbar strain based on the location of the pain, your history of injury, and your symptoms. They might recommend X-ray testing to exclude other potential problems.
In general, a lumbar strain is treated with home remedies such as massages, local heat applications, rest, and physical therapy. If the pain doesn't subside, the back pain specialist might recommend over-the-counter medications to relieve the muscle spasm and the pain. It is very important to avoid heavy lifting, strenuous physical activity, and anything that might lead to reinjury while recovering. Prolonged bed rest isn't a good solution either because it might slow down the recovery process. 
If none of the treatments and remedies mentioned above work, our Harvard-trained back doctors will recommend a minimally-invasive customized treatment. Depending on the severity of the injury, your medical history, and your symptoms, Dr. George Hanna, Dr. Laura Lombardi, or Dr. Shane Volney (our Hackensack back doctors trained at Harvard medical school) might recommend COOLIEF SI Joint Cooled RF, Lumbar Radiofrequency Ablation, Lumbar Facet Injections, SI Joint Injections, or a Lumbar Epidural.
What can a back doctor in Hackensack do for Nerve Irritation?
The nerves found in your low back can be irritated by overuse, mechanical pressure by bone or other tissue, and even due to certain conditions such as bony encroachment and radiculopathy, also known as lumbar disc disease. A viral infection can also lead to nerve inflammation so, if your back pain is associated with fever and other unusual symptoms, it's best to see a doctor as soon as possible.
Low back pain can be debilitating and in some cases, even if the cause is not a severe condition, the pain might not subside on its own. If you are suffering from chronic pain due to a low back nerve irritation, it is recommended to schedule an appointment with a New Jersey back doctor. If you live in Bergen County, NJ, you can choose one of our pain management clinics located near you. We have two conveniently placed spine care locations: in Paramus and in Clifton.
Low back pain can be triggered by many different conditions, but in most cases, the pain can be relieved with non-surgical treatments. If you seek diagnosis and treatment for back pain and want to avoid back surgery and narcotics, you've come to the right place. Our Harvard-trained specialists will offer you a correct diagnosis and based on your needs and preferences will formulate a customized treatment plan that includes minimally-invasive treatments such as COOLIEF SI Joint Cooled RF, Lumbar Radiofrequency Ablation, Lumbar Epidurals, Joint Injections, etc.
If your back pain doesn't go away with home remedies and rest, you should seek professional help from a back doctor near you as soon as possible. Dr. George Hanna, Dr. Shane Volney, and Dr. Laura Lombardi are happy to meet you, to discuss your symptoms, and to provide effective treatment. Before you make a radical decision, such as discussing with an orthopedic surgeon and undergoing surgery, it's important to discuss all the minimally-invasive treatment options available. Come meet the best Pain Treatment Specialists at our state-of-the-art pain management clinics in Hackensack, New Jersey, and get rid of that annoying back pain.
You can find us in Paramus, just off NJ-17, near the Paramus Park Mall and the Garden State Plaza Mall, in  Clifton, NJ, on Route 46 E, past the Ford dealership, and in West Orange, near the Essex Country Club.