If you are suffering from neck and back pain, then you already know how complex and burdensome this affection can be. Not to mention that in many cases, back pain is quite difficult to diagnose correctly and treat. There are numerous types of neck and back pain and patients are often presented with a wide range of treatment options that may or may not work. It's worth mentioning that a good back pain specialist would never recommend narcotics and similar pain medicines or surgery before trying other minimally-invasive treatments first. If you are looking for a 'back pain specialist near me in New Jersey', you've come to the right place. Our Harvard-trained pain treatment specialists are here to give you some advice and to help you get rid of your back pain.
It is very important to mention that back pain is a unique, personal experience. Each person deals with the intensity of back pain differently. Some people tolerate more pain, while others tolerate less, and some conditions are more painful than others. For instance, when it comes to herniated discs, some patients complain about excruciating pain, while others have no symptoms. Similarly, the pain associated with muscle strains can range from mild to debilitating. Certain back conditions can trigger severe pain that will eventually subside only to reappear after a few weeks or months, while others trigger constant pain that worsens over time.
Consequently, if you want your treatment to be successful, you need to be an active participant and have an open and honest conversation with the back pain specialist. You know your level of pain best, so it would be helpful to keep track of your symptoms in order to be able to give an accurate description to your back pain doctor.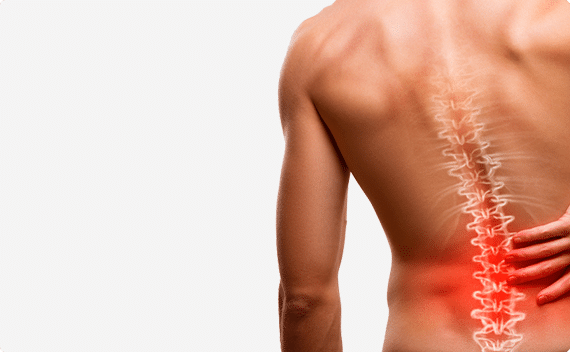 Pain Can Be Caused by Several Structures in Your Back
 Throughout the day, various strong forces put a lot of pressure on your back. Poor posture when sitting hunched over at your desk, sudden jolts and twists, and heavy lifting can lead to back pain. The spine has many overlapping structures that are interconnected and that can trigger back pain when overworked. Here are some of the most common anatomical structures that can become painful:
The large muscles that support your spine
The facet joints that run down your spine and connect the vertebrae
The spinal nerves go down your legs and arms
The intervertebral discs that are responsible for absorbing the shock to protect the bones
There are many anatomic structures that are prone to trigger neck and back pain including your ligaments, your tendons, and your bones.
Underlying neck and back pain conditions can be difficult to identify
For most people, pinpointing the exact structure that is painful can be difficult and even impossible. Your brain receives the painful signals but is unable to distinguish between a bone, a ligament, a tendon, or a muscle. For instance, the pain generated by a herniated or torn disc is extremely similar to the one triggered by an arthritic facet joint. This is owed to the fact that these anatomical structures are very close to one another. Furthermore, several structures such as a bone spur or a disc can irritate or compress the same nerve root.
 So, to find the underlying cause of your neck and back pain, the back pain specialist will discuss your symptoms with you, analyze your medical history, and conduct a thorough physical exam. In some cases, MRI scans, X-rays, or diagnostic injections may be necessary to pinpoint the exact source of the pain.
It's Important to Discuss Your Pain With the Best Back Pain Specialis New Jersey Has to Offer
To get a quick and accurate diagnosis in relation to your back pain, you need to describe your symptoms to a board-certified back pain specialist near you. As a result, it would be very helpful to know the three common classifications of back pain:
Axial pain – Back pain specialists also refer to axial pain as mechanical pain. This type of back pain is usually confined to a single spot or region and it can be described in many different ways. Most patients describe axial pain as being dull, sharp, temporary, constant, or throbbing. The most common causes associated with axial pain are muscle strains and sprains, facet joints, and disc tears.
Referred pain – As opposed to axial pain, this type of pain tends to move around and is often described as achy and dull and varying in intensity. For instance, degenerative disc disease often triggers referred pain to the posterior thighs and hips.
Radicular pain – Patients who suffer from radicular pain often describe it as electric shock-like or shooting pain. Radicular pain is usually caused by spinal nerve root inflammation or compression and follows the path of the spinal nerve down the spinal canal. When triggered in the lower back area, radicular pain tends to travel down the leg. Back pain specialists will often refer to this type of pain as radiculopathy (when associated with numbness or weakness) or sciatica. Spondylolisthesis, herniated discs, and spinal stenosis often cause radicular pain.
After you find a back pain specialist in New Jersey and he/she has reached an accurate diagnosis for your neck and back pain, a minimally-invasive treatment will be prescribed.
It is worth mentioning that for a small percentage of patients, the exact cause of their back pain can remain elusive for a long time. If your pain is difficult to diagnose, and you still don't know the exact cause after many doctor visits and numerous tests, you are not alone. Sometimes, even psychological issues like anxiety, insomnia, or depression can trigger back pain.
The good news is our Harvard-trained back pain specialists in New Jersey will still be able to treat your pain and help you manage it through several nonsurgical options. Schedule an appointment with Dr. Laura Lombardi, Dr. George Hanna, Dr. Shane J. Volney and come visit us in our state-of-the-art pain clinics in Paramus on Route 17, near the Paramus Park Mall, in Clifton, NJ, on Route 46 E, past the Ford dealership, in West Orange, near the Essex Country Club.