Back pain is a common, yet debilitating condition that affects over 65 million Americans. But the good news is that a trusted back pain specialist can help you manage and treat your persistent or chronic back pain. So, you don't have to get used to living with this annoying affection. At Pain Treatment Specialists, our team of Harvard-trained pain doctors offer innovative and minimally-invasive solutions for sciatica, pinched nerves, slipped discs, and more. With a convenient location on Route 46, in Clifton, New Jersey, you can now find a trusted back pain physician near you. Book an appointment over the phone today and get rid of that persistent back pain once and for all. By scheduling an appointment with the most trusted back pain specialists Clifton has to offer, you increase your chances of getting rid of the pain.
Are you on the lookout for a trusted back pain specialist in Clifton, New Jersey? Then you might want to learn more about the most common causes associated with back and neck pain. Knowing what you are dealing with will give you a heads up. Keep in mind that our board-certified pain treatment specialists recommend writing down all of your symptoms, your questions, and as many details about your medical history as you can remember. By doing this, you ensure that your first appointment goes smoothly and that your pain doctor can offer you the best treatment option.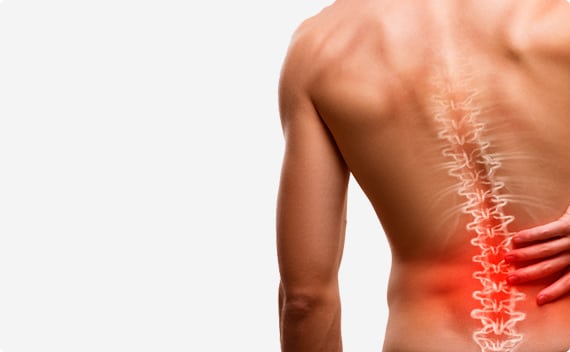 What Are the Most Common Causes for Back and Neck Pain?
In the United States, chronic back pain is among the leading causes of missed work and work limitations. A whopping 8% of American adults suffer from persistent or chronic back and neck pain, and as a result, are limited in performing daily activities. And what's even more alarming is the fact that one in four people with back pain tends to be in poor physical and emotional health. To make it easier for you to prevent chronic back pain, we'll discuss the most common causes that lead to spine and neck discomfort.
Sprains and strains – It is very common for people to feel a sharp and sudden pain in their necks and backs due to sprains and strains. Tough exercise regimens, moving the wrong way suddenly, or falling can result in mild, and even severe back pain. If the pain persists for more than one or two weeks, you should schedule an appointment with the best back pain specialist Clifton has to offer and get a definitive diagnosis and an effective treatment plan.
Herniated Disc – Being among the most common cause behind back and neck pain, disc herniation goes by many different names such as a bulging disc or a pinched nerve. But regardless of what we call it, this condition can generate intense and persistent pain. The first sign of a herniated disc is oftentimes a sharp pain in the legs that pain management specialists often refer to as sciatica. Since 90% of spinal disc herniations happen in the lower back area, other symptoms can include pain, tingling, and weakness when raising the leg.
Spinal Stenosis – Back pain specialists define spinal stenosis as an atypical narrowing of the spine's bony channel, the place where the spinal nerves or spinal cord can be found. Spinal stenosis differs from other back problems as it tends to come in slowly and worsen over time. Patients who suffer from spinal stenosis usually report that their pain has become more and more frequent and intense.
Vertebral Compression Fracture – Depending on where your fracture occurs, this condition can be quite painful and serious. Compression fractures are tiny cracks in the bones of the spine that can lead to a more serious condition known as a vertebral compression fracture. The first signs that are generally associated with this back condition are sharp pain and sudden changes in posture. People who suffer from compression fractures can no longer stand tall so they have a stooped posture.
Spinal Osteoarthritis – This condition is another common cause of back pain and it is defined by pain treatment specialists as a cartilage breakdown that affects the joints or discs in the lower back and neck areas. If you experience severe back pain and you are diagnosed with spinal osteoarthritis, you will receive a treatment based on the severity of your condition.
What to Expect On Your First Appointment with a Back Pain Specialist in Clifton?
At our Clifton, New Jersey pain treatment center, we focus on helping our patients manage and get rid of their back pain. We offer minimally invasive treatment options because we want our patients to get better quickly and to suffer as little as possible. Most of our patients can go back to work and be productive immediately.
There are four main steps that we will take together once you book an appointment with one of our Harvard-trained back specialists.
Step 1 – Schedule an appointment – This is the first step of the process and it consists of having a brief conversation with our customer service team. You will talk to Kat, May, or Kelsey who will ask you about your insurance and book an appointment with one of our board-certified back and neck specialists that work in our Clifton clinics. More specifically, you'll be consulted by Dr. George Hannah, by Dr. Michael Nguyen, or by Dr. Shane J. Volney.
Step 2 – Meet the back pain specialist in person – The second step consists of an initial consultation during which you'll meet one of our Harvard-trained specialists. Throughout this initial consultation, you'll have the opportunity to talk about your general health, medical history, and current symptoms. The goal here is for the pain specialist to understand what you are dealing with in terms of pain and discomfort and to decide what the next step should be.
Step 3 – Formulating a treatment plan – based on what was previously discussed, your back pain doctor will now recommend a customized treatment plan. At our Clifton pain clinics, we focus on helping you avoid narcotics and surgery and we offer minimally invasive solutions that are safe and effective.
Step 4 – Billing outline – After getting a customized treatment plan for your acute or chronic pain, you'll meet a member of our billing department. You will learn about your insurance benefits and coverage and you will receive a detailed outline of all the costs associated with your treatment. Our billing department will work with your insurance company and you won't have to deal with any hidden costs or surprise bills.
Dr. George Hannah, Dr. Shane J. Volney, and Dr. Michael Nguyen of Pain Treatment Specialists offer minimally-invasive treatment options. Relieving your back pain without narcotics and surgery is their main goal, so come meet them in our Clifton, New Jersey clinic. We will help you become your productive self once again. You can find us in Clifton, on Route 46E, near the Garden State Parkway just past the Ford dealership.