After a long work week, Friday night is your time to shine. You grab your friends, your favorite outfit, make sure you add a little extra special Jersey volume to your hair, and hit the town. A fun evening bowling after dinner and drinks are on the agenda to laugh, unwind, and catch up with your besties. Your turn comes up to hit the lanes, and you grab the sparkliest ball you see. Not realizing that it was 15 lbs, you groan under its weight, but decide to give it a roll anyways. As you release the ball, your back instantly freezes. The gutter ball you just chucked echoes how your back feels: like a sore loser.
Back pain is fairly common in adults, and affects many people throughout their lives either due to an injury, or normal wear and tear from aging.If you live in Paramus, NJ where can you turn for board certified pain management from pain doctors who use the latest treatments in minimally-invasive pain medicine? Look no further than Pain Treatment Specialists, located near Paramus, NJ in Clifton. Our Harvard-trained back pain doctors in Paramus create customized treatment plans using cutting-edge pain management treatments for both acute and chronic pain.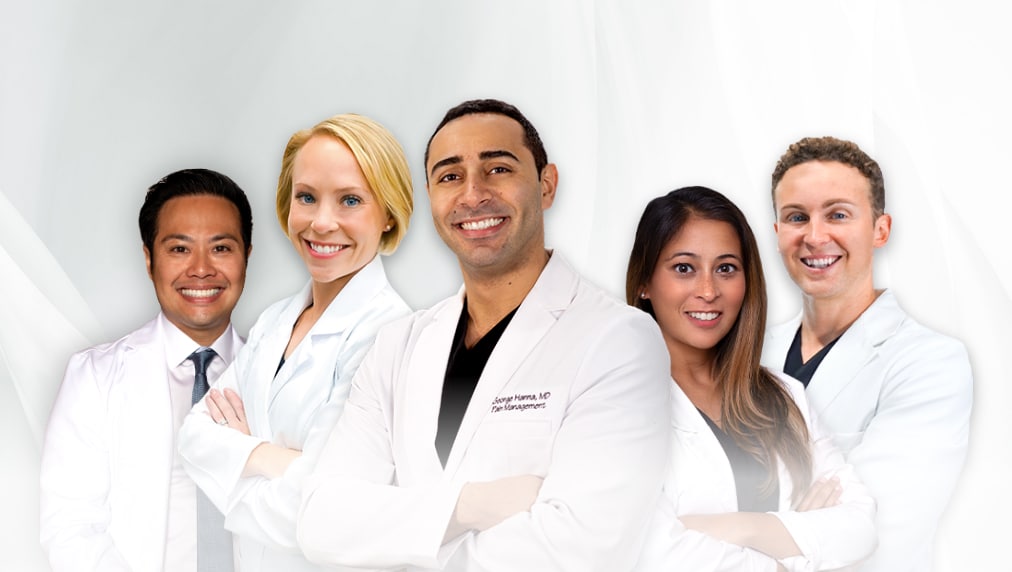 Who Are The Top Back Pain Doctors in Paramus?
At Pain Treatment Specialists, the top back pain doctors in Paramus, our team of pain doctors  are not only board certified, but they are also highly-regarded in the fields of pain management and pain medicine. In Paramus, NJ, the best pain management doctors are not only knowledgeable in their field, they also have exemplary patient ratings because of their kind and compassionate bedside manners. Let's meet the best back pain doctors in Bergen County:
Laura Lombardi: Completing her Interventional Pain Medicine Fellowship at Harvard University, Dr. Lombardi is one of the top back pain doctors in Paramus. She is double board certified in anesthesiology and pain medicine, and specializes in back, neck, and joint pain. As a former Division 1 athlete, Dr. Lombadi understands the needs of athletes, from marathon runners to the occasional weekend bowler. One of the latest treatments she employs is fluoroscopic-guided interventional pain treatment injections.
Shane Volney: A former clinical instructor at Harvard Medical School, Dr. Volney taught multiple medical fields including pain medicine, palliative care, and anesthesiology. He is double board certified in anesthesiology and pain medicine, and regularly speaks at national medical conferences about the latest advancements in interventional pain management.
If you're ready to get back in the bowling alley without back pain, book an appointment at Pain Treatment Specialists, where you'll find the best back pain doctors in Paramus.
What Are the Best Back Pain Treatments in Bergen County?
Your back pain doctor closely listens to your back pain concerns, and creates a customized treatment plan according to your specific needs. Working with a pain doctor is not a "one size fits all" approach– your pain management specialist knows that the back is a very complex and complicated body part. At Pain Treatment Specialists, your back pain doctor in Bergen County has a variety of back pain treatments to effectively treat your back pain including:
Lumbar Radiofrequency Ablation: Looking for a non-surgical way to treat back pain? Lumbar radiofrequency ablation uses heat energy, and not steroids or surgery, to treat lower back pain caused by an inflamed facet joint. This heat energy is delivered to the precise area that includes the troublesome nerve area endings, which are generating pain signals to the facet joint. The result is increased mobility and effective, long-lasting back pain relief.
COOLIEF SI Joint Cooled Radiofrequency Ablation: Looking for a cutting-edge treatment for back pain in Paramus, NJ? Cooled RF delivers back pain relief for hard-to-reach areas that were previously left untreated due to their delicate location. The goal is to denervate the sacroiliac joint in the lower back and relieve back pain.
Physical Therapy: Physical therapy is recommended by your back pain doctor in Paramus, NJ to build strength and increase mobility in your back. Using targeted exercises and tailored treatments, your back should be stronger than ever after several sessions of physical therapy.
If you're searching for the best back pain treatments in Bergen County, call and schedule an appointment at Pain Treatment Specialists to discuss one of these options with your pain doctor.
How Do I Describe Pain To My Back Pain Doctor?
Pain can be very difficult for people to describe accurately. If you've experienced a sudden injury, the sensations you're feeling are brand new, and can leave you at a loss for words. If you suffer from chronic back pain, you've likely relegated your pain to "background noise", and have learned how to live with it. When you meet with your back pain doctor in Paramus, it's critical that you're able to accurately describe your back pain. Here are some tips from the top back pain doctors in Paramus, NJ for how you can describe your back pain:
Keep a Pain Diary: This is a little different than the diary you kept as a teenager, but the purpose is the same. No, you're not writing your crush's name in cursive doodles, but rather documenting your day-to-day life. Pay attention to when your back causes you the most grief. Do you feel more or less pain when you wake up in the morning? Do you avoid specific activities in order to not feel back pain? Does it hurt when you walk, sit, stand, or bend over? When you lay down at night, do you feel relief or pain? Answering these questions and paying special attention to your back is very helpful for your back pain doctor. If possible, keep a record of your back pain for two weeks before your initial appointment.
Rate Your Pain: This is also something that can be documented in your pain diary. On a scale of 1-10, with 1 being non-existent and 10 being excruciating, how does your back feel throughout the day? Record this pain number next to specific activities to help identify the levels of pain you're feeling.
Use Specific Pain-Focused Words: Not sure what language best fits what you're feeling? Words like "stabbing", "dull ache", "knotted", "tense", "sharp pain", and "spasm" can help you identify common feelings associated with back pain.
Located near the Garden State Parkway and just off of NJ-3, Pain Treatment Specialists are easily accessible for clients living in Bergen County. If you're ready to get out of the gutter (ball) and aim for a strike, schedule an appointment at Pain Treatment Specialists to get your groove back on Friday nights.