Foraging through the forest on a sunny spring day is the perfect way to spice up your culinary routine while getting some fresh air and exercise. You grab your guidebook, shovel, and map and head out to Hackensack River County Park. Look! There's a patch of ramps growing on the side of that embankment. Is this a morel mushroom, or is this poisonous? Best to check your edible guidebook. You pivot quickly, thinking you've found some delicate fiddleheads, when your back screams in pain. Looks like that's the end of the nature trail for you today.
Back pain commonly affects many adults, and alters the way you live your life. From daily activities like walking and running, to weekend excursions like foraging, chronic back pain is a painful reminder that something isn't right. What is the best way to treat chronic pain? Contact a pain management doctor, such as the Harvard trained pain doctors at Pain Treatment Specialists. As the top back pain doctors near Hackensack, their medical advice comes from years of diagnosing and treating chronic back pain, neck pain, and joint pain.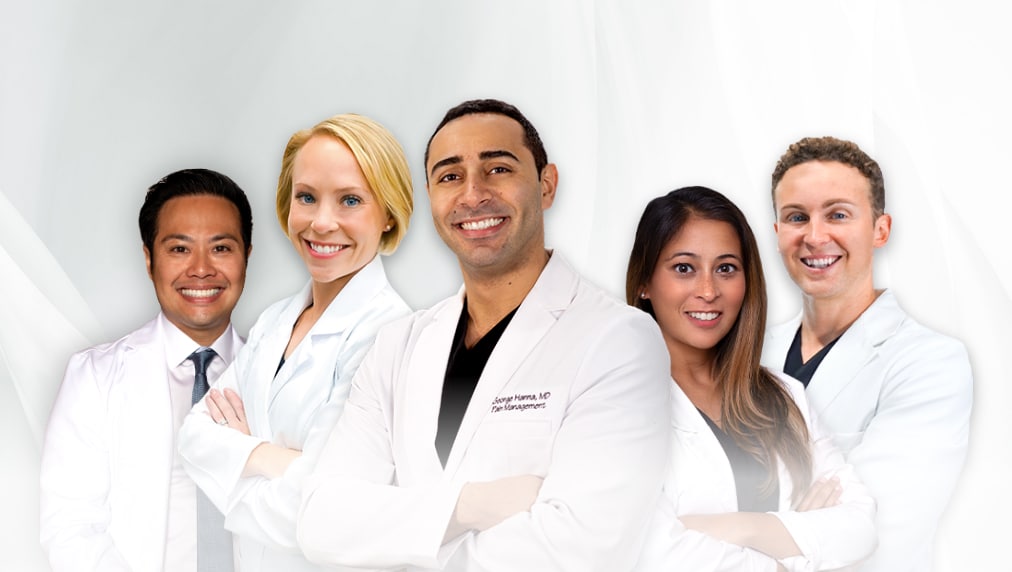 Meet The Top Back Pain Doctors in Hackensack
What makes the pain management doctors at Pain Treatment Specialists better than the rest? Not only are all of our doctors Harvard educated and trained, but their depth of expertise in the diagnosis and treatment of back pain is unmatched. Let's meet some of the best board certified back pain doctors in Hackensack:
Laura Lombardi: Dr. Lombardi's focus is on pain treatment medicine, with a specialty in fluoroscopic-guided interventional pain treatment injections. She completed her Interventional Pain Medicine Fellowship at Harvard University, and is well-respected by her peers in the pain medicine community. Her expertise in minimally-invasive pain management makes her a regular contributor at national medical conferences, in addition to authoring textbook chapters on pain management.
Shane Volney: As one of the top back pain doctors in Hackensack, Dr. Volney is double board certified in anesthesiology and pain medicine. Dr. Volney was a clinical instructor at Harvard Medical School for 7 years, teaching courses in pain medicine and anesthesiology. By joining the team at Pain Treatment Specialists, he adds a tremendous depth of experience.
If you're ready to schedule an appointment to discuss your chronic back pain, contact the team at Pain Treatment Specialists, with a clinic located in nearby Clifton, NJ.
What Are Common Back Pain Conditions?
When you meet with your pain doctor in NJ, they will discuss a possible reason for your chronic back pain. Using their years of expertise and training, your back pain doctor in Bergen County knows the anatomy of the back and spine, as well as its underlying pain conditions. Some common back pain causes include:
Lumbar Herniated Disc: This condition is also commonly known as a slipped or ruptured disc. Your back has small discs that work as shock absorbers between your vertebrae (bones.) If the discs work properly, they keep the spine moving easily and without pain from daily movements. When the discs are damaged, they may break open or bulge, leading to intense back pain.
Spinal Stenosis: This back pain condition is often found in your neck and lower back. Spinal stenosis occurs when there is a narrowing of the spaces within your spine. This puts pressure on the nerves that pass through the spine, and creates pain, weakened muscles, and tingling or numbness.
Degenerative Disc Disease: As you age, your body goes through the normal process of wear and tear. Degenerative disc disease most often occurs in your lower back. Over time, the discs in our back lose the ability to become effective shock absorbers due to they drying out of the natural fluid located in the disc. This can also be the result of an injury or activity in sports.
The diagnosis and treatment of your chronic back pain is best left to a pain management specialist, such as the team at Pain Treatment Specialists.
Do Back Pain Doctors in NJ Use Advanced Technology?
In order to achieve a pain free life, back pain doctors in NJ must utilize advanced technology in order to treat back pain. Pain management doctors do not use surgery as a method to treat back pain, so using the most cutting-edge advanced technology is the most highly-effective method. Your back pain doctor in Hackensack offers the following minimally-invasive treatments:
Lumbar Facet Injection: This back pain treatment in NJ is also known as a lumbar facet joint block. During this procedure, your interventional pain medicine doctor injects a local anesthetic or steroid medication into one or more of the small joints located along the side of each vertebra. These are located on each side of the spine in the lower back. If more than one joint is affected, then multiple injections are made. If you suffer from arthritis of the spine or have suffered a back injury, a lumbar facet injection provides tremendous pain relief.
Lumbar radiofrequency Ablation: If you would like to avoid steroids for your back pain treatment, then lumbar radiofrequency ablation is a great back pain treatment in Bergen County. This back pain procedure uses electromagnetic waves that move at the speed of light, and the resulting heat energy that's produced is what's used to treat your back pain. Your pain doctor uses their expertise to deliver this heat energy to the precise nerve endings in your back that are producing pain signals.
Located just past the Fette Ford Dealership in Clifton, NJ  on route 46-E, Pain Treatment Specialists are the best back pain doctors near Hackensack, NJ. Get back into the woods and off of the couch with the best minimally-invasive back pain treatments in northern NJ.