If you are from New Jersey, your back hurts constantly and is interfering with your work schedule, family life, and other activities, you should start looking for the best "back doctor near me NJ". Our Harvard-trained back doctors can offer minimally-invasive treatments that will provide durable relief for your back pain.
Many people suffer from back pain at some point throughout their lives and, unfortunately, for most of them, this condition has significant consequences. If this sounds familiar, then you probably already know that chronic back pain can affect your quality of life by preventing you from enjoying important family events, being productive at work, doing physical activities, etc. Researchers found that lower back pain is the number one cause of "activity limitation and work absence" throughout the world. More often than not, back pain is also associated with a wide range of mental health symptoms such as depression and anxiety.
So, it is safe to say that living with back pain shouldn't be an option. While your back pain might not be severe or chronic at the moment, it's always recommended to schedule an appointment with a back doctor near you, in New Jersey. Call one of our New Jersey spine centers if your back pain is persistent and one of our very friendly staff members will guide you through the whole process. If you ignore the pain and you go on with your normal life, you might worsen the issue and cause severe damage that will be more difficult to fix. By getting in touch with a board-certified back pain doctor sooner rather than later, you can avoid surgical treatments and you can find relief for back pain with pain-free minimally-invasive procedures.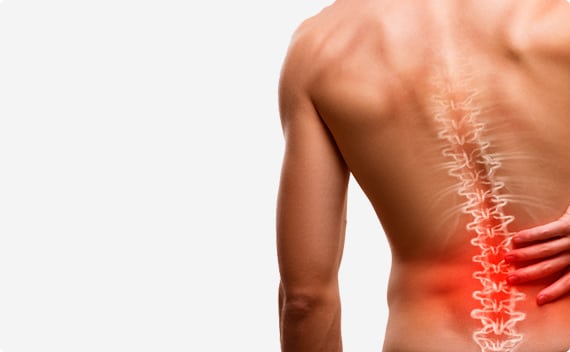 What type of back problems are treated at our New Jersey Pain Treatment Centers?
Our Harvard trained specialists, Dr. Laura Lombardi, Dr. George Hanna, and Dr. Shane Volney treat a wide range of back problems. Whether you're suffering from an injury or a condition such as spinal stenosis or osteoarthritis, our modern pain treatments will provide long-lasting pain relief through COOLIEF SI Joint Cooled RF, Lumbar Radiofrequency Ablation, Lumbar Epidurals, Lumbar Facet Injections, or SI Joint Injections. The most common back problems that we see and treat every day in our we see in our NJ pain centers are:
Muscle Spasms
Muscle Strain or Sprain
Slipped Discs
Pinched nerves
Torn or Pulled Muscles
Spinal Stenosis
Lumbar Herniated Discs
Facet Joint Dysfunction
Deformities
Degenerative Disc Disease
Spondylolisthesis
Sacroiliac Joint Disfunction
Osteoarthritis
Do all back problems require surgery?
 Not all back problems require surgery. In fact, we now have access to a wide range of effective non-surgical options. These minimally-invasive treatments will provide long-lasting pain relief. You won't have to spend time in the hospital or worry about the recovery time. After going through a minimally-invasive procedure, you'll be able to return to your daily activities almost immediately.
Back surgery should be seen as a last resort and, before choosing to undergo a surgical procedure for back pain, it's recommended to explore all your options. Our board-certified back doctors have helped thousands of patients avoid back surgery by offering them non-invasive treatments.
If you suffer from chronic back pain and are not sure what the best treatment is, schedule an appointment with one of our Harvard-trained back pain specialists. Dr. George Hanna, Dr. Laura Lombardi, or Dr. Shane Volney will answer all of your questions, will analyze your symptoms, and will formulate a treatment plan based on your needs and preferences.
Who Is at Risk of Suffering from Back and Neck Pain?
Back pain can affect anyone, but adults that are between 35 and 55 years old are more at risk than children, teenagers, and young adults. The aging process encourages wear and tear, so it is very common for adults to suffer from neck and back pain.
It is important to mention that individuals who have active lives, who maintain a correct posture, eat healthily, and exercise regularly are less likely to develop back pain. In our experience, the main causes of back pain are aging, a sedentary lifestyle, and sitting in an incorrect position for long hours while at work.
What Non-surgical Treatments Will a Back Doctor in New Jersey Recommend?
Our nationally-recognized back pain treatment specialists focus on offering modern back pain procedures that are painless, cause minimal to no discomfort, and provide long-lasting pain relief. If you suffer from chronic back pain that is persistent and that doesn't go away with rest and home remedies, it's highly recommended to try minimally-invasive treatments before you consider back surgery.
Our New Jersey pain specialists focus on helping patients avoid narcotics and surgery because of the risks associated with these types of treatment. Dr. George Hanna, Dr. Laura Lombardi, and Dr. Shane Volney, our Harvard-trained spine care doctors recommend physical therapy and rest for mild pain, and for severe pain: COOLIEF SI Joint Cooled RF, Lumbar Radiofrequency Ablation, Lumbar Epidurals, Lumbar Facet Injections, or SI Joint Injections.
If your back pain is severe and persistent, schedule an appointment at one of our state-of-the-art pain clinics in New Jersey. Our Harvard-trained back doctors near you in New Jersey will treat your pain and help you manage it long-term through minimally-invasive customized treatment plans. Come visit us at one of our convenient New Jersey locations in Paramus on Route 17, near the Paramus Park Mall, in Clifton, NJ, on Route 46 E, past the Ford dealership, in West Orange, near the Essex Country Club. Stop suffering and start living your life to the fullest without pain!