Back pain is a common affection that the majority of Americans will experience at least once over the course of their lives. Back pain can last from just a few days to several weeks and it can vary in intensity. There are many things that can cause back pain and some of them such as strains and sprains can be treated with rest, over-the-counter medicines, and by applying heat. If your pain is persistent and intense and doesn't go away with rest and home remedies, it's highly recommended to schedule an appointment with the best back doctor Clifton has to offer.
It is very important to mention that back pain can be triggered by many different things and every person experiences the symptoms differently.
The most common symptoms of back pain are: 
Constant and dull discomfort or pain along the spine.
Sharp pain in the neck and lower back areas.
Constant pain in the lower back after sitting down for too long.
Back pain that radiates towards the extremities.
Back pain can be debilitating and suffering in silence won't make it go away. Don't let back pain affect your career and your relationships. If the symptoms listed above sound familiar, do not hesitate to schedule an appointment with Dr. Laura Lombardi, Dr. George Hanna, or Dr. Shane Volney in our Clifton, NJ pain management clinic, and get medical advice. Our friendly staff will give you all the necessary info and you'll be able to see a renowned board-certified back doctor who will analyze your medical history and your symptoms, offer a qualified diagnostic, and recommend a minimally-invasive treatment.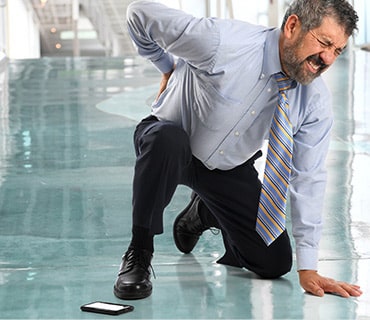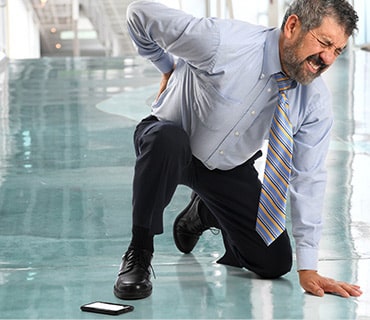 Our Back Doctors in Clifton Offer Minimally-Invasive Treatments
Our board-certified back doctors are happy to help you get rid of back pain without prescribing narcotics or back surgery. Minimally-invasive treatments are effective even if you are in severe pain. Most patients think that they need to see a spine surgeon but most of them get better with physical therapy and non-surgical procedures.
At our Clifton, NJ spine center, we focus on treating patients who suffer from neck and back pain with the latest minimally-invasive spine treatments. Our patients are extremely happy as the discomfort associated with the procedures is minimal to none. 
Here are some of our most effective minimally-invasive back pain treatments:
Lumbar Radiofrequency Ablation – Recommended to patients who are suffering from chronic neck and lower back pain related to joint degenerative conditions like arthritis. Pain relief from RF can last up to a year and over 70% of patients experience significant pain relief.
Sacroiliac Joint Injection – These injections are recommended to patients who suffer from Sacroiliac joint pain and that was triggered by rheumatoid arthritis, gout, ankylosing spondylitis, congenital deformities, infections, or fractures. SI injections can have a therapeutic role and a diagnostic one.
COOLIEF SI Joint Cooled RF – This innovative treatment is very effective and is used to treat low back pain triggered by sacroiliac joint inflammation and arthritis. This procedure can relieve lower back pain and hip pain relief for a longer period of time than other treatments and it has a reduced risk of adjacent tissue damage.
Lumbar Facet Injection – These pain management injections have two main purposes – to provide short and long term back pain relief and, in combination with a physical examination, to diagnose joint pain. Lumbar facet injections are usually recommended to patients who suffer from lumbar facet syndrome, spondylosis, spinal stenosis, trauma, spondylolisthesis, etc.
Lumbar Epidural – These minimally-invasive steroid injections are used to relieve back, neck, arm, and leg pain triggered by spinal nerve inflammation, disc herniation, and spinal stenosis.
Getting the right treatment for your back pain is very important and so is receiving the right diagnosis. A back pain treatment specialist can treat your pain effectively and painlessly. If you are looking for the best back doctor in Clifton, New Jersey, then you've come to the right place. Our Harvard-trained back doctors – Dr. George Hanna, Dr. Laura Lombardi, and Dr. Shane Voleny will take a comprehensive approach to your pain and offer a customized treatment plan. 
How to Prevent Back Pain
Not all causes of back pain can be prevented but some of them can. To reduce the impact of back pain and to prevent neck and back injury you might have to make a few changes in your day-to-day activities and habits. If you are already suffering from back pain, these changes can prevent your pain from worsening or, if you aren't suffering from a severe condition, can even make the pain go away completely. 
Strengthen your core – By strengthening your abdomen muscles you reduce the chances of damaging or straining your back. Your abdomen muscles will take some of the load off your back.
Improve your posture – In this day and age, most people spend a lot of hours in front of their computers and this comes hand in hand with an incorrect posture. Crouching at your desk is most likely the main cause behind your back pain. Try to maintain a correct posture as much as possible and you'll notice how your back will hurt less.
Stretch regularly – Regardless of whether your back hurts or not, you should stretch on a daily basis. If you spend a lot of time sitting down or standing, you have an increased risk of back damage. Stretching often will strengthen your muscles and will prevent back pain. 
Reduce the load – Carrying heavy handbags, suitcases, laptop backs, or backpacks will put a lot of strain on your back. Reducing the load that you carry every day might not always be possible, but there is a simple solution that you should consider – a bag with wheels.
If your pain doesn't improve or gets worse over time, you should schedule an appointment with one of our Harvard-trained back doctors in our Pain Center in Clifton, NJ, or one of our other convenient locations (Paramus and West Orange). Finding the right back pain specialist to help you manage and relieve your pain isn't always easy, especially if you want to avoid surgery. A back pain doctor will offer minimally-invasive treatments for all types of painful disorders both chronic and acute.